Closed
OVERVIEW It is more important than ever to become literate in news media. According to the Pew Research Center, the gap between TV and online news consumption continues to narrow. The portion of Americans who generally get news from TV is declining, while the portion of Americans getting news online is growing. Vice Media went from a start-up to a $5.7 billion global juggernaut.
Closed
Daily Bruin A&E serves to showcase the members, groups and works of UCLA's artistic community, in addition to covering on-campus entertainment events like Bruin Bash and Spring Sing.
Central to our coverage are features on student, faculty and alumni artists. However, we also cover arts and entertainment events outside UCLA, including film premieres, concerts and art exhibitions. Our past coverages include Coachella, the LA Film Festival and food fests like the LA Coffee Con. Writers will be trained in professional journalism, but may also express their own voice through reviews on trending topics in music, movies and more.
Prior journalism experience is not a prerequisite to succeed in our section. We welcome applicants of all levels! If you have any questions, please feel free to email A&E editor Raunak Devjani at [email protected]
Closed
Bloggers will write for the Quad, the Daily Bruin's space for analytical and explanatory journalism, similar to publications like Vox, Slate or the New York Time's "The Upshot" blog. The Quad covers a wide range of topics — just this summer, we've published one story about the science behind California's worsening wildfires and another about how to make the transition from dorm life to apartments — the possibilities are really endless!
Closed
OVERVIEW
Graphics is a multimedia section within the Daily Bruin that creates compelling and comprehensive visual aids that correspond to a story. We also create standalone graphics which are entirely produced within our section, from conception to completion of the graphic.
Closed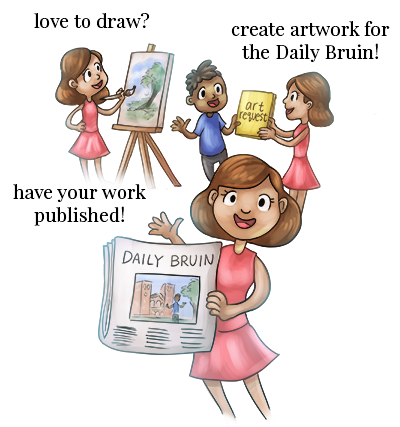 Illustration interns are responsible for creating artwork that supplement articles published in the Daily Bruin newspaper. As members of the multimedia section, illustrators are tasked with receiving art requests from the paper's written sections of news, sports, opinion, arts and entertainment, and Quad, the Daily Bruin's online blog. Illustrators also contribute to the paper's quarterly arts magazine, PRIME, and collaborate with other departments on both larger ventures and smaller projects, such as web headers and layouts or merchandise. We welcome creative artists from all majors who have a passion for art and experience with creating works in either traditional or digital media.
Closed
Apply to write for the Daily Bruin News department. News reporters get to be at the forefront of every major event on UCLA's campus. Our reporters also get to interview prominent public officials and stay on top of current events. No reporting experience is necessary. Come join our news team and be a part of our award-winning journalism.
Closed
Copy editors are the watchdogs of the paper. We edit every article that goes in print and on the website to make sure that it follows the rules of grammar, Associated Press style, coherency, factual accuracy and consistency. Copy is ultimately responsible for sending a clean, consistent and complete paper to the printer by deadline. We want to help reporters present their stories in the best possible way, which means working with all the sections of the paper.
Closed
The Online section of the Daily Bruin is the digital branch of the paper and produces and publishes all of the content you see across The Bruin's sites. As a software engineering intern, you'll gain practical web development experience working in teams to create sites on deadline. All interns will be trained in modern full-stack development practices, from creating single page applications with React to developing and deploying servers backend by databases. Daily Bruin Online contributors have gone on to have software engineering and product management internships at top newspapers and tech companies including The New York Times, LA Times, Facebook, Google, Microsoft, Adobe, Amazon, and Bloomberg, among others.
Closed
What is Opinion?
Closed
Photography Interns are involved in capturing events that happen at UCLA and the Los Angeles area. Interns gain hands-on experience. No camera is required nor experience as we guide all new interns both with gear and other programs used to edit photos. As a photojournalist, assignments vary widely from sports to concert photography. Working as a photojournalist will grant valuable work experiences and better your photography portfolio.
Closed
Cartoonists create editorial cartoons or short comics for the Daily Bruin newspaper. Cartoonists have the freedom to come up with their own ideas and topics each week, with the occasional request from editing staff for a specific opinion or topic. You may work in traditional or digital media. We welcome all artists from all majors who have an interest in creating cartoons. Working as a cartoonist will provide valuable work experience and plenty of finished works suitable for an art portfolio.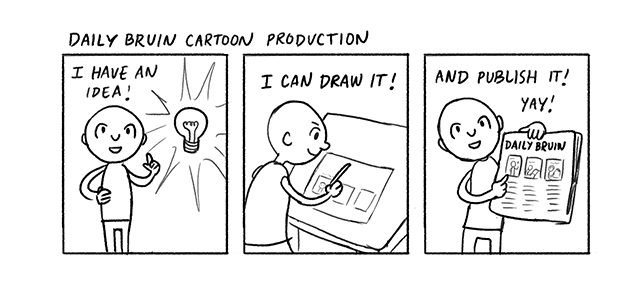 Closed
The Design department is responsible for arranging the layout of stories and art for every issue in the Daily Bruin. We are also in the process of expanding the department's reach into the realm of web design.
Closed
A data journalism intern is the most cross-disciplinary entry position at the Daily Bruin. Interns receive training in traditional reporting skills, statistical analysis and web development and are expected to pitch and contribute words, graphics and code to The Stack, Daily Bruin's data journalism blog.
Closed
The Daily Bruin Social Media department serves as a link between the Daily Bruin's audience and newsroom. In the age of digital journalism, social media is integral to disseminating news and maintaining readership. Social Media producers will work across various social media platforms, including Facebook, Twitter, Instagram and Reddit to help our audience discover and engage with our content. Producers work closely with all of the Bruin's editorial departments to best market each section's content online and set a coverage agenda that aims to communicate news and inform the UCLA community.